Martal Group began with a mission of making things easier for everyone else. We would use our collective experience to find the classic pain point businesses have to suffer through on their growth journey. After that we worked with experts to build intuitive solutions on how to fix those pain points with technology.
Building the tech was the easy part. It was letting people know about it and trust our process that was slightly more difficult. This is why we decided to create a vendor profile on Clutch. Instead of talking our client's ear off with how great we are, we'll let our past partners do the talking for us.
Today, we're glad to share the latest review that proves the effectiveness of our process.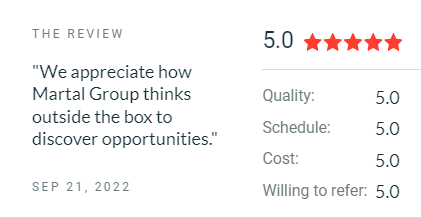 The company we were working with for this project was an e-commerce company that partnered with businesses worldwide. They needed a reliable partner to help them expand their lead generation strategy with inbound and outbound marketing. They chose our team because we stood out during our meetings with them.
While we can't go into much detail about the engagement itself, those interested can read the full review on our Clutch profile. But the five-star score is a quick good indicator of our performance during the project.
But the good news doesn't end there. Thanks to the overwhelmingly positive feedback we've received from our clients we got noticed by another B2B platform. We've been included in the top 100 call center services on The Manifest.
They are a business resource platform that creates rankings of the top performers in various industries. They do this in order to connect companies with their ideal vendors. Our inclusion in one of these lists is a significantly positive development for our team.
First, we'll be appearing in two high-traffic B2B-focused platforms, making our services easier to find for prospective clients. Second, they help us quickly establish ourselves as experts in the field without having to add to our marketing or outreach efforts.
We've always known that relying on our clients is the best way forward and everything that's happening right now is proving us right. Our hope is to continue the momentum these reviews are giving us and finish the year with a strong quarter.
Discover more about our team and how we can positively impact your business by visiting our website. Contact us today and we can begin talking about how to strengthen your marketing position. We're very excited to collaborate with you.