Callbox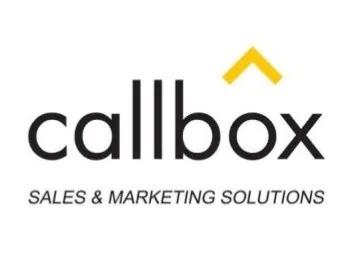 About Callbox
Callbox started in 2004 first as a B2B inbound call center but quickly branched out into B2B outbound call services by the next year. Callbox relies on an in-house database for B2B leads that is curated and managed by their research team. These leads are used in database services, outbound outreach, account-based marketing, and promoting live and virtual events.
Callbox has a diverse workforce with offices in the UK, Australia, New Zealand, Hong Kong, Singapore, Malaysia, and the US. However, Callbox's core team members that handle business development, campaign content, and prospect outreach for clients are located in the Philippines.
Avg Sales Rep experience (years)

Core team location — where is your client facing team based

Philippines
Callbox Services Offered
B2B Lead Generation
From prospecting to scheduling, Callbox handles B2B lead generation using a variety of touchpoints including, emails, phone calls, social media, chat, banner ads, and webinars.
Account-Based Marketing
Callbox identifies ideal accounts, key decision-makers, and organizational structure, then pursues these accounts through personalized inbound and outbound outreach campaigns.
Database Solutions
Database services provided by Callbox include cleaning, verifying, updating, and enriching data with missing information.
Event Marketing Services
Callbox offers campaign solutions for live events to increase engagement, sign-up, attendance, and conversions. Callbox also assists in behind-the-stage interactions during live events and post-event follow-up.
Webinar and Virtual Event Marketing Services
For online events and webinars, Callbox provides marketing materials, facilitates preparation, manages engagement, and analysis before and after results to drive conversion.
Callbox
Pricing
Similar to Belkins and Cience, Callbox does not list pricing on their website. Out of the clients that shared pricing on Clutch, many stated they paid anywhere from $4,300 - $5,300 a month with some larger projects costing as much as $15,000 monthly.
Martal Group
vs

Callbox Comparison
Customer Feedback
While Callbox has been around for many years, their reviews are limited on trusted, unbias sites. For example, on G2 there are three reviews for Callbox with a 2.5 out of 5 rating. On Clutch, Callbox has a better rating averaging 4.6 out of 5 with a total of 46 reviews. Given this information based on client feedback, it is hard to determine whether Callbox is a reliable resource for B2B lead generation.
Martal Group has well-documented reviews of our clients' success on both G2 and Clutch as well as client case studies that can be found on our website. By reading the reviews on these B2B buying guide platforms you'll see that many of our past and current clients chose Martal because of our expertise in the tech industry, our ability to ramp up quickly, and of course, a high volume of sales qualified leads that can be hard to replicate internally.
Database Optimization
Due to the fact that CallBox uses an in-house database, it is hard to tell whether the prospects' information is comparable to well-established systems widely used by other B2B lead generation firms. Manual scrapping of data can leaves holes in important information necessary for precision targeting and personalization.
At Martal Group, the success of your campaign is our top priority. Since that success is heavily reliant on access to well-vetted prospect data, we invest in robust databases that incorporate artificial intelligence along with second and third-party cookie data to track the intent of key accounts and decision-makers. In other words, by using the right data we speed up the sales cycle, increase conversions, and make it easier to create a lasting connection.
Team Structure
It's important to consider the location of your outsourced team before launching a B2B lead generation strategy. At Callbox, the team members that handle direct outreach to key decision-makers are from the Philippines. If you are targeting accounts within the US, having an offshore team can make connecting with upper management and c-level executives difficult. Any hiccups in communication through copy or calls can make it hard to build up trust in your brand and rapport with the individuals.
Because of this, Martal Group is comprised of North American sales executives with years of experience building relationships with US-based B2B prospects in various industries. Our sales team understands that communication styles and pain points vary depending on the prospect's role and responsibilities. We take that into account when building out your unique campaigns for different verticals.
Martal Group for Outbound B2B Lead Generation
About Martal Group
Martal Group has been serving the tech industry exclusively since 2009 making it one of the most experienced B2B lead generation companies in the market today. Whether you are the founder of a tech start-up with a vision of accelerated growth or a well-established brand looking to expand your partnerships, Martal Group can help you close deals faster.
With three tiers to choose from, you have access to a wider range of B2B lead generation services at Martal Group that goes beyond appointment setting into presenting solutions, overcoming objections, closing deals, and managing accounts.
Martal Group Core Team Location
Martal Group sales executives and copywriters are based in the USA and Canada to ensure your entrance or continued efforts to increase your market share in North America is a seamless process. The sales team uses multiple channels for outbound outreach including emails, LinkedIn, and phone calls to maximize engagement opportunities. Your ideal client profile (ICP) is used to create target lead lists with powerful intent data and the most up-to-date information available.
Martal Group Services Offered
Martal Group's lead generation plan includes precision targeting for your ICP, personalized omnichannel campaign sequences, structured lead qualification based on client criteria, and appointment setting for ideal prospects.

The second tier in Martal Group's service plans includes everything mentioned in the first tier along with assistance in closing deals and onboarding new customers generated through the sales team's efforts.

Martal Group's most inclusive plan is great for B2B tech companies that don't have a dedicated sales team or that need a specia- lized team for the North American market as it provides account management in ad- dition to tier two services.
Martal group
Pricing
Due to our unique structure, Martal Group does not list pricing. Martal Group is the only B2B lead generation company that offers pay-per-lead hybrid options to ensure you are getting the best possible return on your investment.
You can contact us for an assessment of your customized B2B lead generation pricing.
Is Martal Group
Right For You?
About Martal Group
Are you ready to grow your tech company with more clients?
Have you been struggling to find an outbound strategy that drives results? If so, then partnering with Martal Group can lead to an engaging B2B lead generation process that will fill your pipeline with prospects looking for your solution.
Discover how Martal Group can help you skip the prospecting process and scale your tech company faster. Book a 30-minute consultation today.
Schedule a consultation