We are excited to announce that the Martal Group team has been recognized as one of the top B2B service providers of 2023 in San Francisco by UpCity!
For more than a decade, UpCity's mission has been—and continues to be—to help businesses find B2B service providers they can trust. Each year, UpCity analyzes and scores more than 50,000 service providers based on their UpCity Recommendability Rating and acknowledges the top national and local providers with an UpCity Excellence Award. The results are in, and we won!
Martal Group offers fully-managed lead generation and sales outsourcing services, including appointment setting, customer onboarding, and account management. At Martal, we believe continuous collaboration and transparent communication are key to producing long-term relationships that drive measurable results.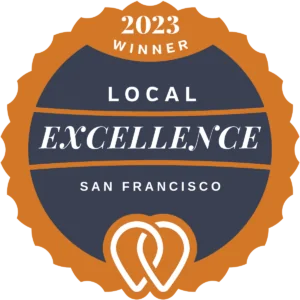 This recognition has been driven in large part by our 5.0-star review rating on UpCity. Here are a few of the glowing reviews we've received from our incredible customers:
"The team at Martal Group really hit the ground running with our lead gen campaign. We've seen consistent performance month over month, and we're really excited about the opportunities the sales executives have brought in. It's been a great experience and has successfully lifted the majority of the prospecting burden off our internal team."
Max Klein, October 2022
"They educated me first then enabled me to make the best decision for a vendor. In the first nine days of the program, we were generating well-qualified appointments. Two weeks in we continue with a consistent flow. These folks are the A-Team. Great team, highly recommended!"
Doug McLean, October 2022
Martal Group is honored to be recognized by UpCity as a Local Excellence Award Winner in San Francisco. We are excited about the work we are doing for our clients and the progress we have made in the sales outsourcing industry over the past 14 years. The outpour of positive feedback from our clients is truly heartwarming and a testament to the Martal team's passion for helping companies meet their sales goals and scale their revenue growth.
About the UpCity Recommendability Rating
The UpCity Recommendability Rating was developed to determine a service provider's credibility and trustworthiness. This rating helps give UpCity the confidence to recommend a service provider to the more than two million businesses that visit our marketplace, which is powered by over 35,000 verified reviews. Read more about the UpCity Excellence Award here.