Increasing revenue through a concrete sales process is the ultimate way to attain your long-term business objectives. But while the end goal might be clear, your sales strategy to execute on it might be less so.
An excellent way to get you there is to grow your sales team.
However:
The competitive job market today has only made it harder to hire and retain top talent. Add to that the ever-increasing costs of training new staff, onboarding, office equipment, etc.
All of that has made it clear to sales managers that they should turn to outsourced sales to keep up with the growing pressure.
But what exactly is sales as a service? Is it a good solution for your business? And how does it compare to in-house hiring?
Let's dive further into that to help you make a more informed decision.
What Is Sales as a Service?
Sales as a service is a cost-efficient business model that enables companies to hit their revenue targets without hiring. It's the strategy of outsourcing the sales process to a trustworthy 3rd party sales team.
The right outsourced sales development representatives (SDRs) will offer great support and expertise to your sales team. They'll help you with various sales and marketing tasks — including lead generation, account management, and more.
The Benefits of Outsourced Sales
Quick, low-cost growth
You might feel tempted to rely on internal talent and re-skilling to get your sales on track. But in reality, such an approach is only going to slow down your growth while it wastes your time, energy, and resources.
Outsourcing sales to an agency will save you weeks of hiring and training, which you can use to improve business efficiency. You'll also cut out expenses and free up your budget for more important business needs.
That opens up the door for your business to tackle newer challenges using different sales functions and technologies.
Specialized skill set
Hiring an outsourced sales team will not only boost sales effectiveness, but it's also a great way to improve work performance across multiple departments.
How is that possible?
Outsourced SDRs have the necessary skill set to enhance your sales funnel and uncover new growth opportunities. They'll operate in synergy with your in-house team to facilitate lead acquisition and accelerate the sales cycle.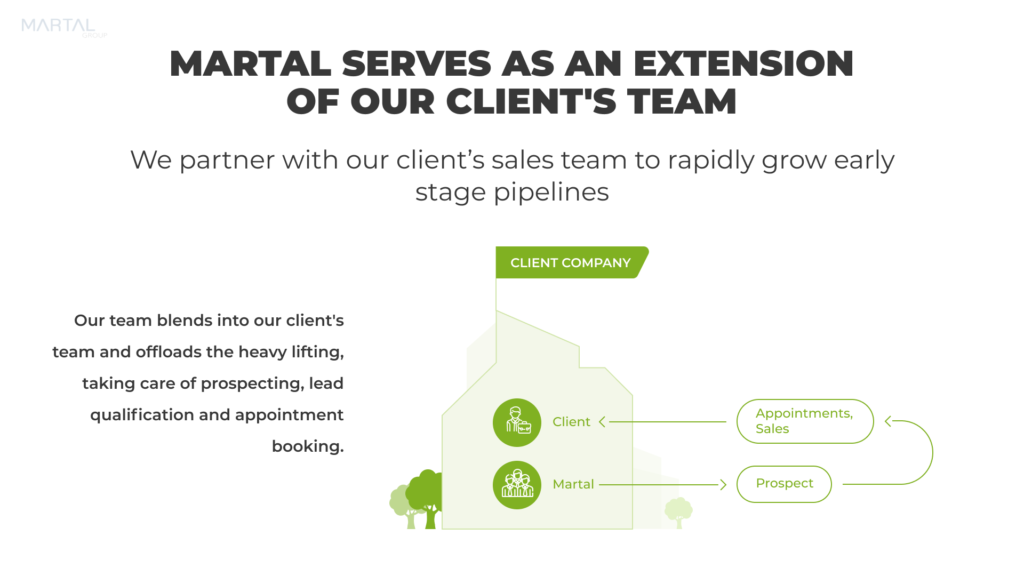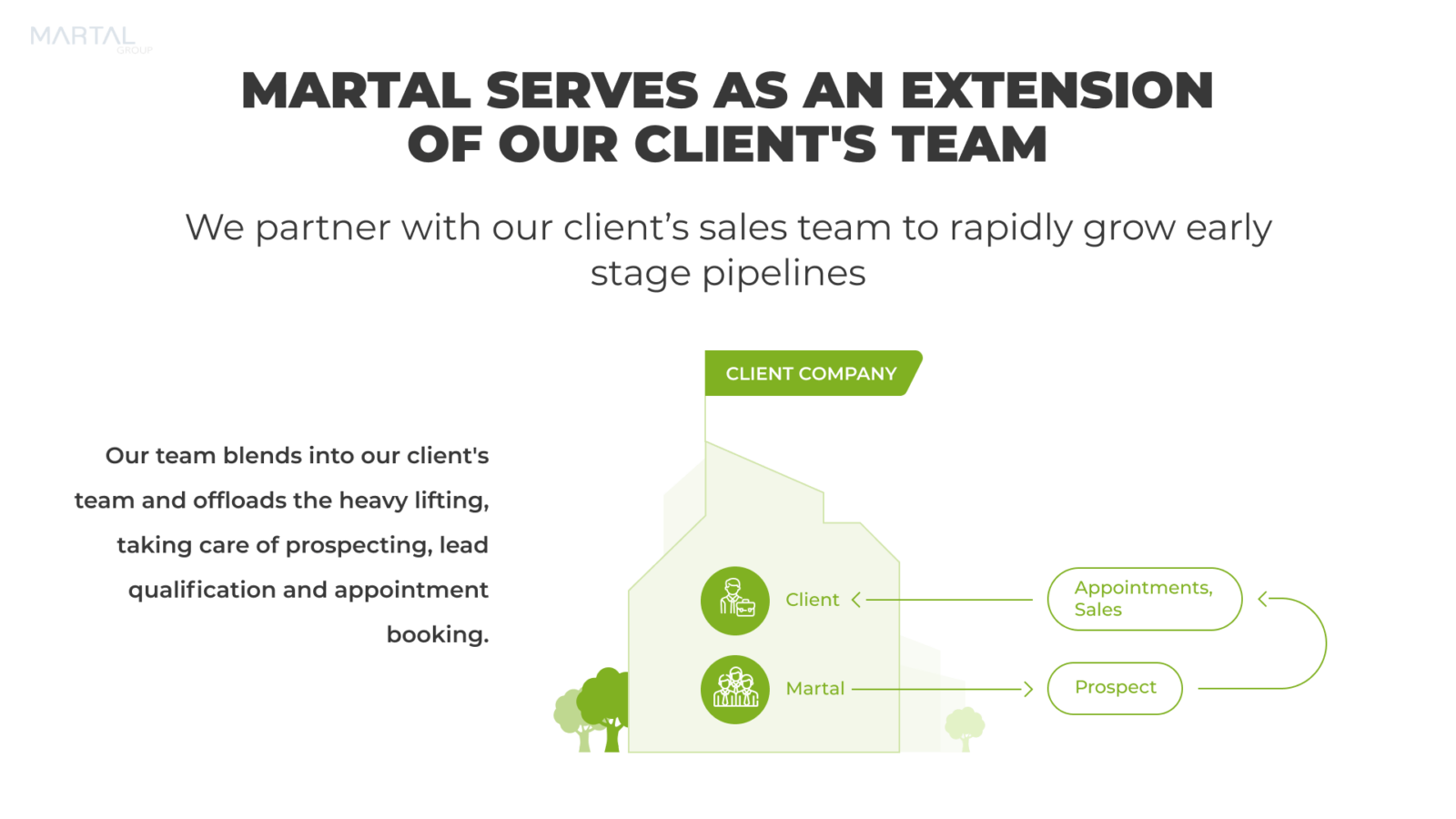 On the other hand:
Clearing your in-house employees' time will give them the freedom to focus on their specialized tasks and hone in on high-priority projects.
Cutting edge sales technology
The most successful tech brands in the globe take advantage of sales technology to close more deals and dominate their markets.
The problem is:
It's nearly impossible to keep up with all the trends and quick technological advancements in sales on your own.
That's when outsourced SDRs step in.
Sales as a service allows you to leverage any innovative sales technology without the necessity to invest in tech. You'll have a trained team of sales reps with extensive knowledge of CRMs, big data analytics, lead intelligence, marketing automation, and a lot more.
When Should You Consider Outsourced SDRs?
If you're looking to break into a new market
Building rapport and sparking interest in your brand as you breach a new market might not be the easiest of tasks. But a competent outsourced sales team can help you get there faster and at a lower cost.
You can choose outsourced SDRs based on their experience with the product, industry, or type of client you want.
If you're a tech startup or company looking to scale fast
A limited budget puts a lot of restraints on how your company can move forward. For instance, you can't afford to hire a senior sales team with decades of experience, but hiring an inexperienced team will cost you even more in the long run.
Outsourced SDRs bring the necessary expertise to your team so you can make all the right decisions in your sales strategy and improve your win rate.
If you're selling a complex product and service
Purchasing a complex product or service of any nature takes a lot of thought on the client's part. Consequently, the sales process can be way longer and might require more lead engagement and nurturing.
Sales as a service will take the heavy lifting off your hands and set your company up for success.
Maximize Your Growth Using Outsourced Sales Today…
Martal group is an industry-leading sales agency that has been serving B2B tech companies since 2009. We offer a team of highly-qualified sales specialists to help you scale your company to new heights.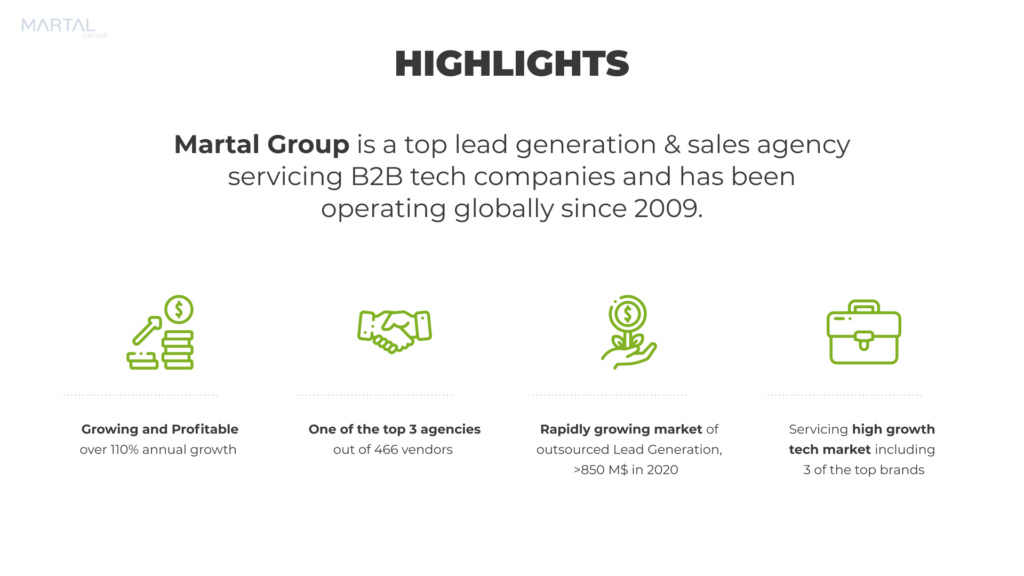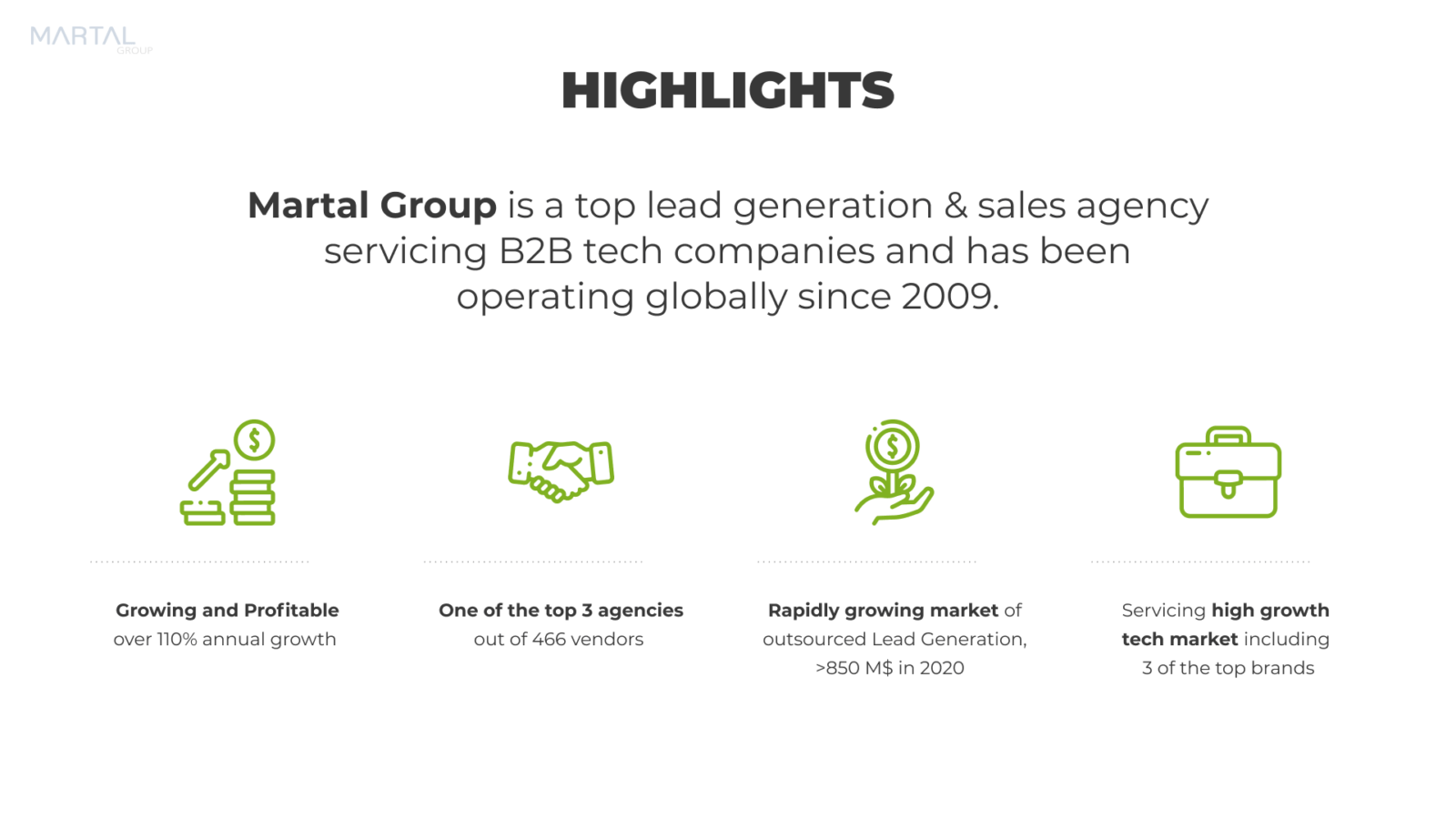 With our sales as a service model, we help tech companies like yours with every step in the sales cycle. From lead generation, personalized outreach, account management, customer onboarding, all the way to closing deals!