Martal Group is excited to announce our recent industry award from Clutch as a top sales partner. We serve tech companies in the US and Canada by providing voice services, email marketing, and content marketing. Working exclusively with small and medium businesses gives us the opportunity to understand each company's unique perspective and specific challenges.

Clutch is a ratings and reviews firm located in the center of Washington, D.C. Their team's goal is to connect prospective clients with the best service provider for them and their specific project needs. Clutch creates the reviews on company profiles by interviewing past customers. Each company is then compared with similar ones to name the best performing companies in every industry around the world. Martal Group has earned the number one spot for Canadian voice service firms.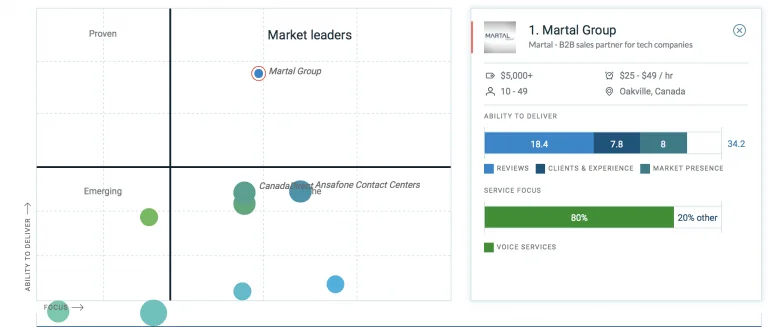 Martal Group has also been featured on Clutch's sister site The Manifest as one of many business leaders. Our profile on this blog style site includes a description of who we are, a past project, and some former clients.
"We are honored to have been selected as the Top vendor of IT business services in Canada. Martal's sales partnership and lead generation solutions have helped our clients reach untapped markets and attract new customers" – Founder of Martal Group
We are always looking for new partners and hope you want to join us. Take a visit to our site to learn about what we're all about and click on the envelope image to send us a message.