AI is quickly becoming a solution in all the industries known to man. Marketing happens to be one of the industries at the forefront that is to benefit the most from the advancement of AI. Research says that around 48% of marketers believe AI is causing vital differences in customer behaviors—mostly positive.
So, how does one go about making the most out of it already? How do you augment the content marketing process with the help of AI? What are the possibilities, and how to leverage existing AI technology? Let's find out.
1. Content Research and Ideation
Idea generation happens to be one of the key provisions of AI in content marketing. There were times when writers were stuck in writer's block, marketers couldn't come up with new ideas, and research was difficult on any topic.
Nowadays, you just need to know how to give the right prompt to ChatGPT to reveal the right result. This is just one example of using AI-powered tools for content research. It also has other applications, such as trend analysis. That means companies and marketers can use AI for:
Generating content ideas and researching unique takes on specific topics:
Focusing on audience interests by aligning research with common pain points;
And incorporating AI-driven insights to find exciting statistics and in-depth reports.
So, let's say we wish to generate an idea for a blog, targeted at new startups, then AI can assist us like this:

And then, we can create an outline right off the bat: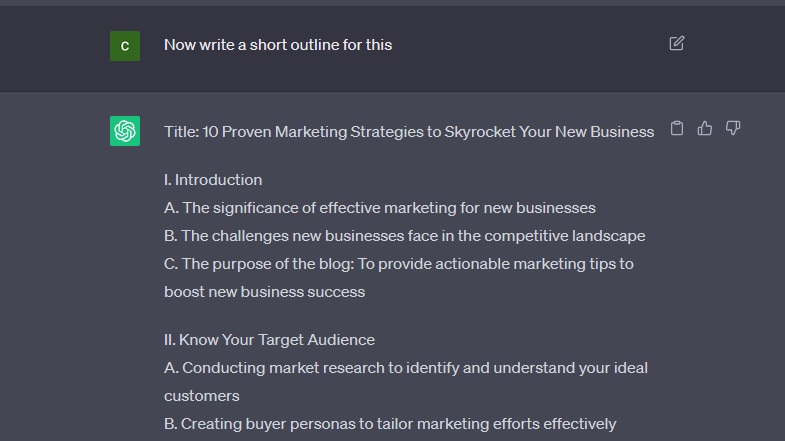 This has become one of the most common practices among businesses and markets today. So, doing this can help a business speed up content research and ideation effectively.
2. Unique Content Creation And Ensuring Originality
Content creation is something that's been assisted by AI for quite a while now. However, content optimization is also benefiting quite a bit with the help of AI. Today, there are many AI development companies that can help one create content and make it unique for online marketing.
These tools that help with content creation include:
AI-based writing assistants for generating high-quality content and assisting with fixing content, improving quality, etc.;
Content creation automation through natural language generation programs and tools;
And content optimization with AI-based content optimizers.
One such example of content optimization would be removing content issues, such as grammatical errors or plagiarism. And to remove plagiarism, a writer would need a tool to check plagiarism. And nowadays, online plagiarism checkers make the task easy by:
Finding out plagiarism percentage like this: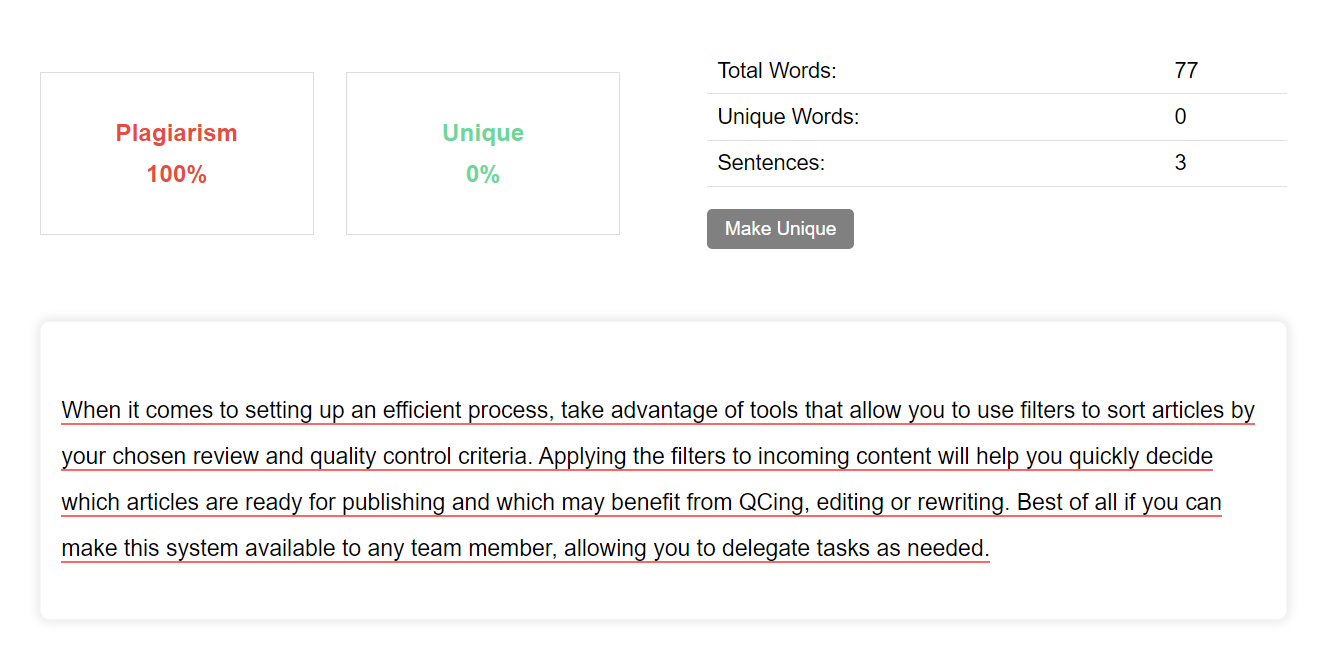 And helping locate the original content source like so: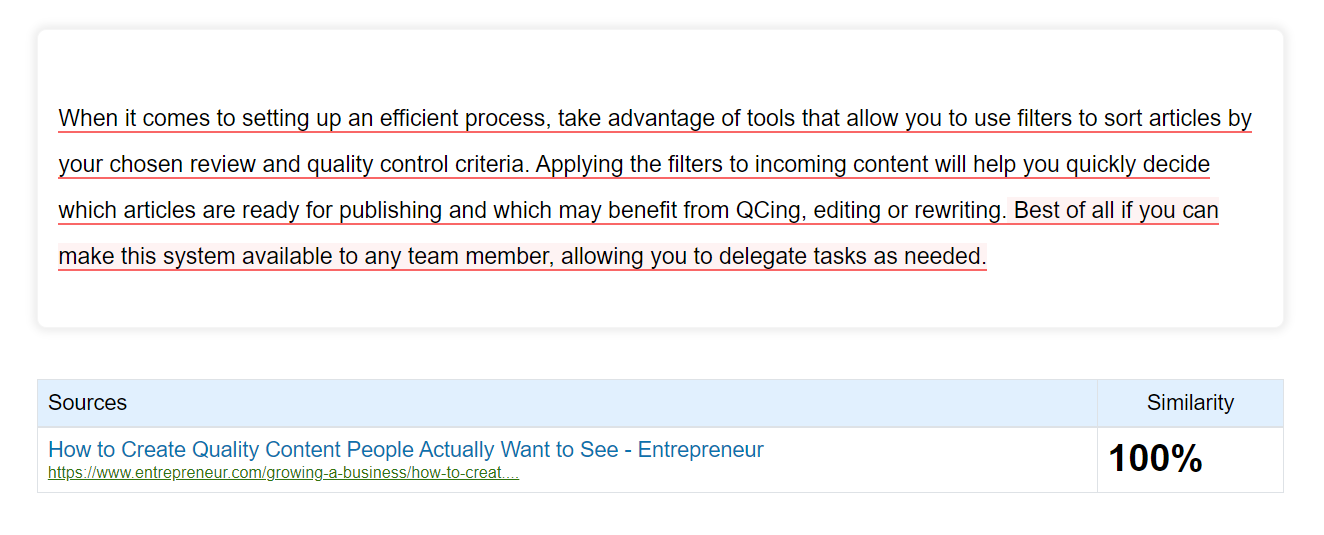 This way to check plagiarism has become an effective way to optimize content and make it unique/original. It also prevent the hassle of manual tactics of finding plagiarism, such as scanning specific sentences manually through Google searches.
And most importantly, it can help find the link to the original content. In the process, it'll help remove plagiarized content by simply citing the original source.
3. Enhancing Content Engagement With AI-Driven Tools
Content engagement is more than just about making the content informative. It's also about making it fluent, smooth, and easy to read. That's something a lot of businesses focus on nowadays, as they use AI-driven tools called article rewriters to enhance the quality of their content.
An online article rewriter can help you create content and optimize it effectively. Here's an example of AI-driving better word usage in content to make it more engaging: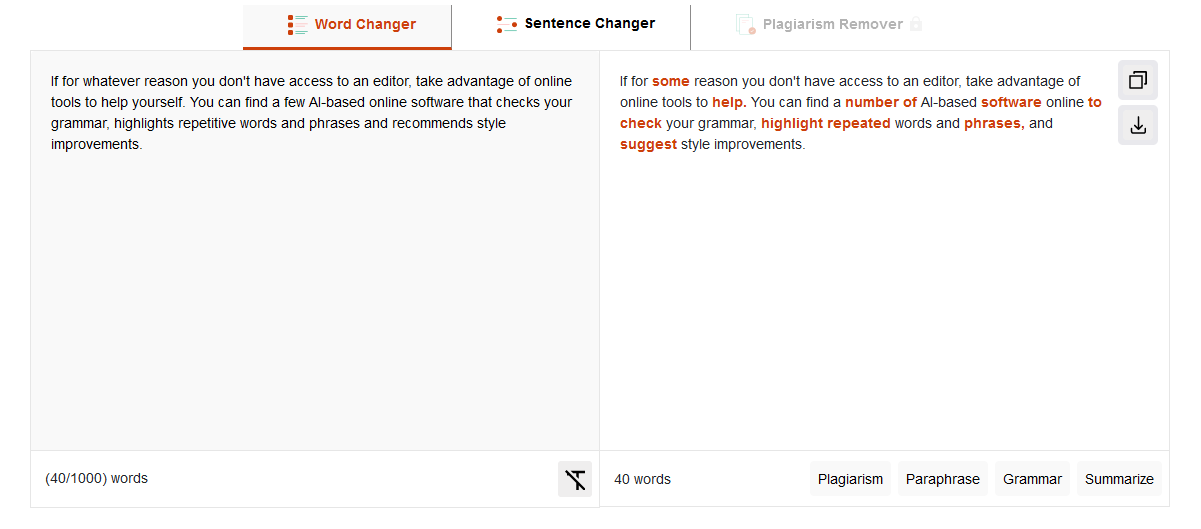 As seen here, AI-based article rewriter shows its prowess in picking better synonyms. And, it indicates how much more engaging the rewritten content is on the right-hand side. Now, if we repeat the same with another content mode, then AI gives us this: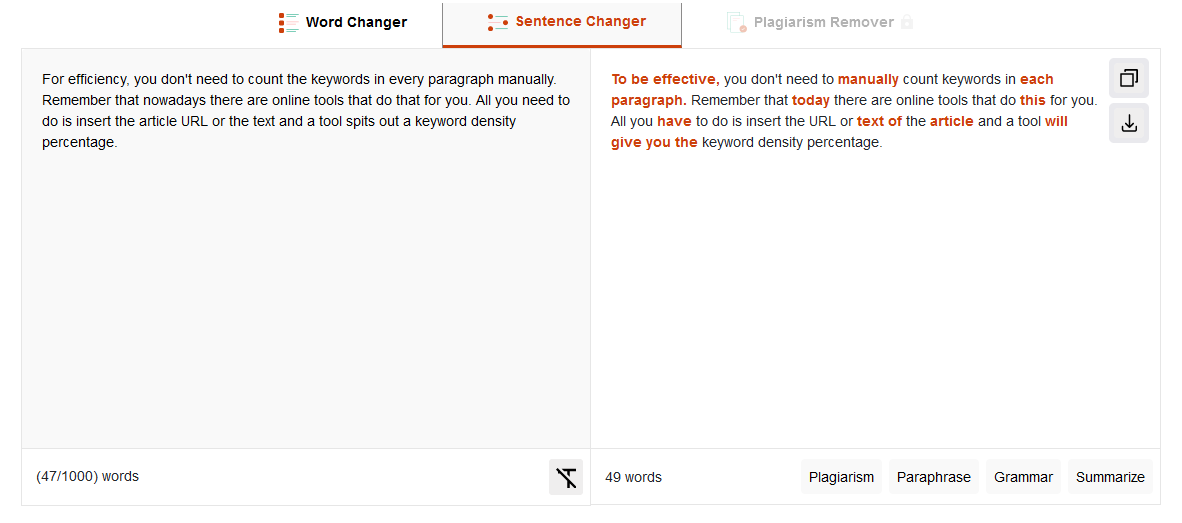 This is yet another example of AI working in your favor—helping you augment content properly and elevate its quality. And, let's say we generate an introduction for a blog with ChatGPT like this: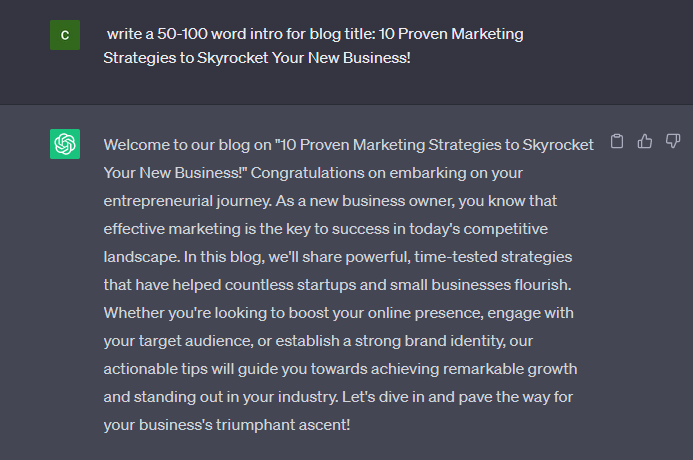 Now, we'd want to make it sound less robotic, so we can use the article rewriter here to make it appear more plausible: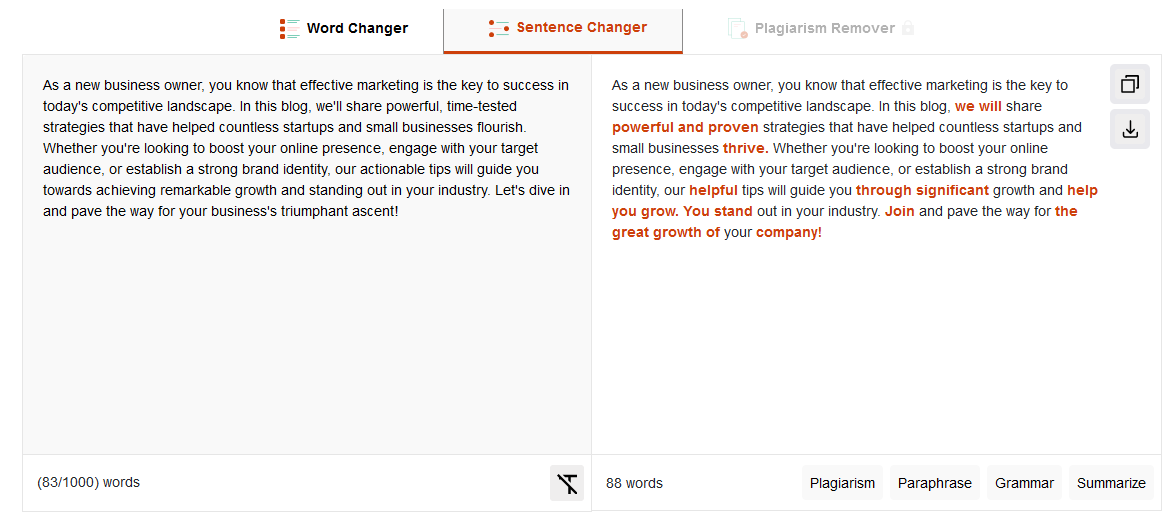 And as we can see here, the content has now shifted and became a bit more human-like. In other words, you can simply use an AI-based article rewriter to elevate the content tone or change the fluency of your text.
Or, you can optimize your content by simply rewriting the plagiarized text with it and removing any sort of duplicity from it.
4. Personalization and Audience Segmentation
One of the things that AI has made easy is analyzing audiences. It can help understand audience behavior, and it can assist immensely with audience research and the creation of customer personas. There are tools that can help one with the following:
Examine user behavior and preferences;
Formulate personalized content recommendations;
Obtain insights on common issues faced by customers;
And focus on content creation and distribution based on audience segmentation.
This sort of personalization and audience segmentation was only made possible by the advancement of AI. Then, there's also a trend of brands and businesses using AI chatbots. This helps them provide personalized interaction to customers and increased support.
5. Content Distribution and Promotion
Platforms like WordPress and other distribution channels have always used the latest tech. But, the arrival of AI-based plugins is going to make content distribution even easier with specific automation and targeted reach.
In other words, this will help with automating content posting for various channels—not just the likes of WordPress. In fact, it's already being used in a lot of Content Management Systems (CMS) around the globe. The primary benefit of this would be:
Timely content posting, scheduling, and automated optimization;
Posting on various channels at once;
And using AI-powered social media analytics and ad targeting.
This will not only help with improved promotion but also help businesses save a ton of time and money. This way, those who augment content with AI will be able to reach their target audience efficiently and on time.
Conclusion
AI continues to advance as we speak, and these are the key factors of augmenting the content marketing process with AI. It depends on the business how far they wish to go with AI, as a lot of businesses and marketers still prefer the old-school way of doing things. However, sooner or later, they'll have to jump on this trend to compete with their opposition effectively.