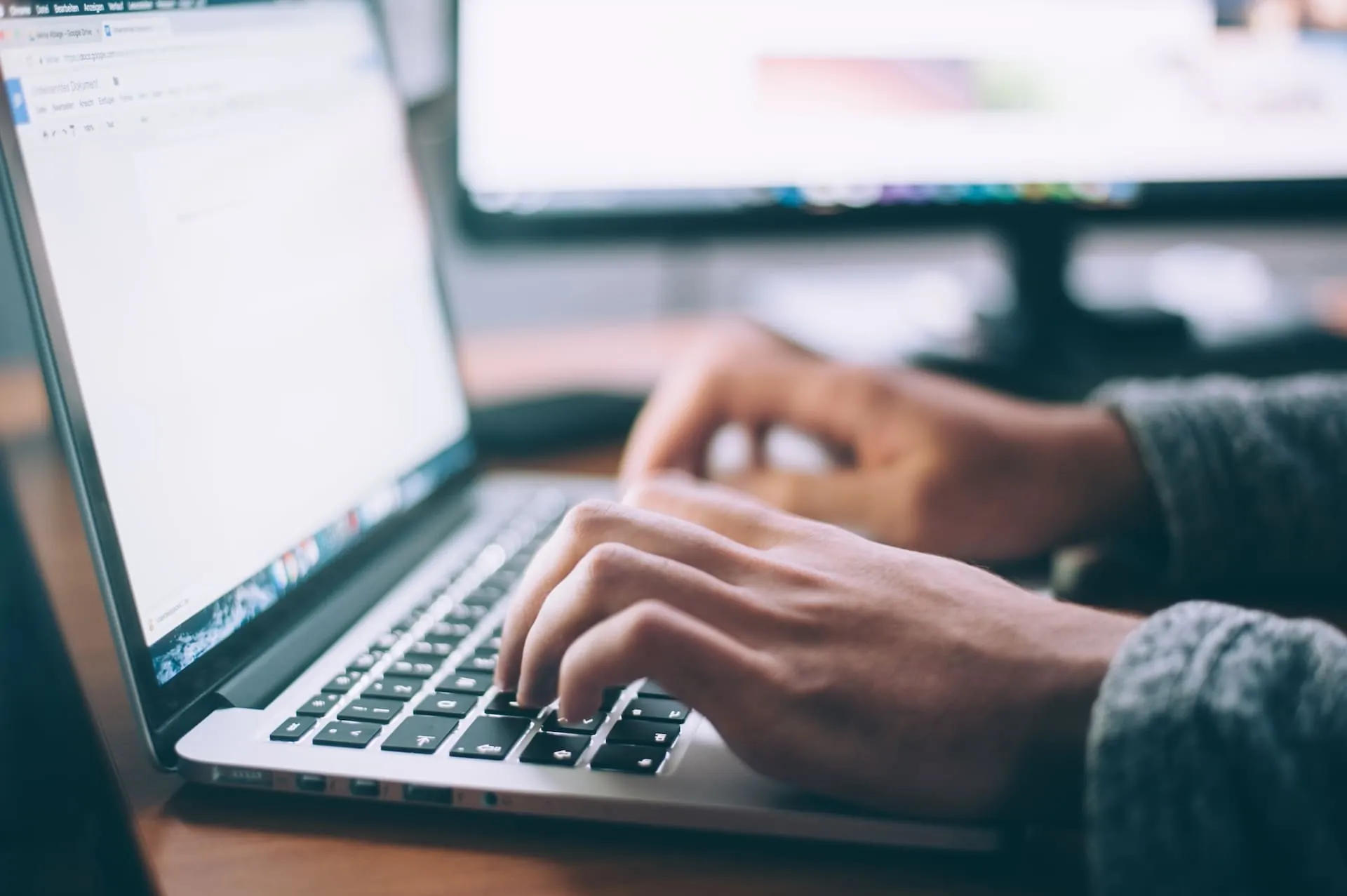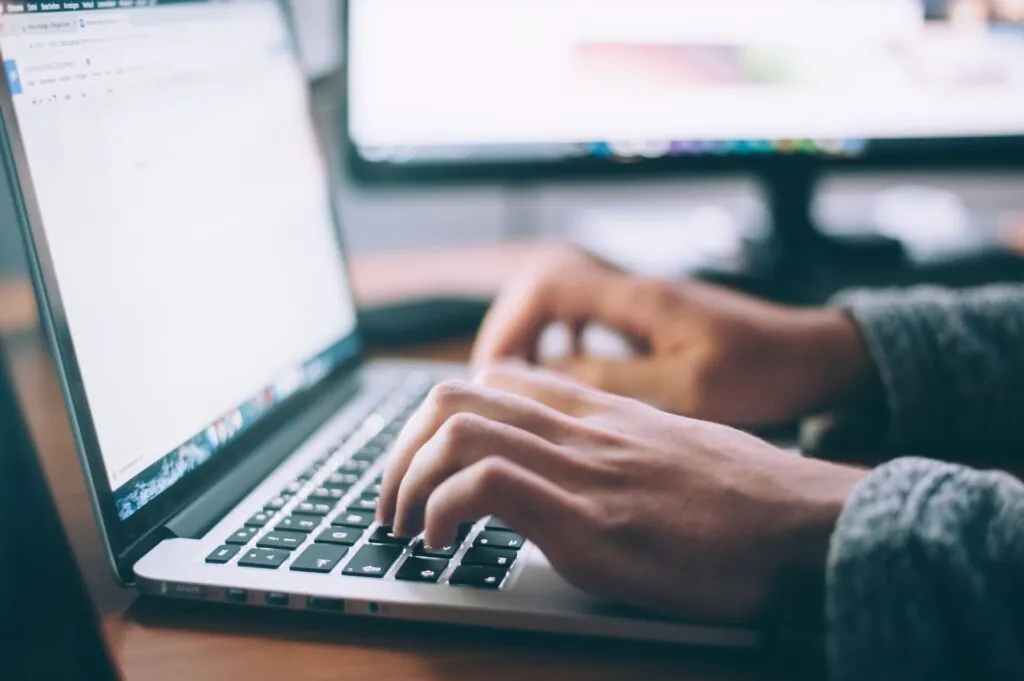 Getting your brand to stand out by investing in content marketing is a great accomplishment. And many businesses — like Dollar Shave Club — have managed to capture their audience's attention by producing engaging, sometimes even viral content, which put them on the map and allowed them to build a base of delighted customers.
But the value of content marketing isn't just its ability to grab consumer attention. More importantly, investing in and distributing high-quality content allows businesses — regardless of their marketing budgets — to build resilient, long-lasting relationships with their prospects, an achievement reflected in KPIs like brand awareness, audience engagement, and bottom line.
Still, if you're interested in utilizing content marketing to accomplish your goals, ensure you invest your hard-earned money in formats your target audience enjoys consuming. After all, data shows that the average person spends more than six hours using the Internet daily. And that translates into a lot of content and even more noise your brand needs to cut through to reach your audience.
So, if you want to guarantee that what you're publishing resonates with your prospects, leaves them wanting more, and gets them to re-visit your site and social media profiles regularly, the following are the top types of content you need in your strategy.
Long-Form Articles
One of the most advantageous content formats you can add to your marketing strategy is long-form written content.
According to research, articles between 1,500 and 3,000 words long tend to:
Get more social shares
Generally present readers with relevant, valuable information that encourages consumers to form positive brand impressions and nurtures trust and loyalty
However, the one thing you must remember about long-form articles (or any other written content) is that quality trumps quantity. That is, the value of this format doesn't come from the word count alone. Instead, it's rooted in the breadth and quality of information long-form resources tend to offer consumers.
So, if you decide that your content strategy could benefit from investing in more long-form articles, prioritize the following:
delivering unique value
educating your audience by tapping into your expertise
building trust through only presenting readers with verified information
For a great example of what you can do with long-form content, check out Trustshoring's guide to custom software development. You'll see how the 1,500-word article gives readers in the awareness stage of the buyer's journey a perfect introduction to the topic. Moreover, thanks to intelligent design choices — like using bold heading styles and including a Table of Content at the left-hand side of the page — Trustshoring manages to present its audience with a resource that's skimmable, easy to read, and that anyone can extract value from in a short amount of time without having to waste energy on learning about aspects of the topic irrelevant to their experience.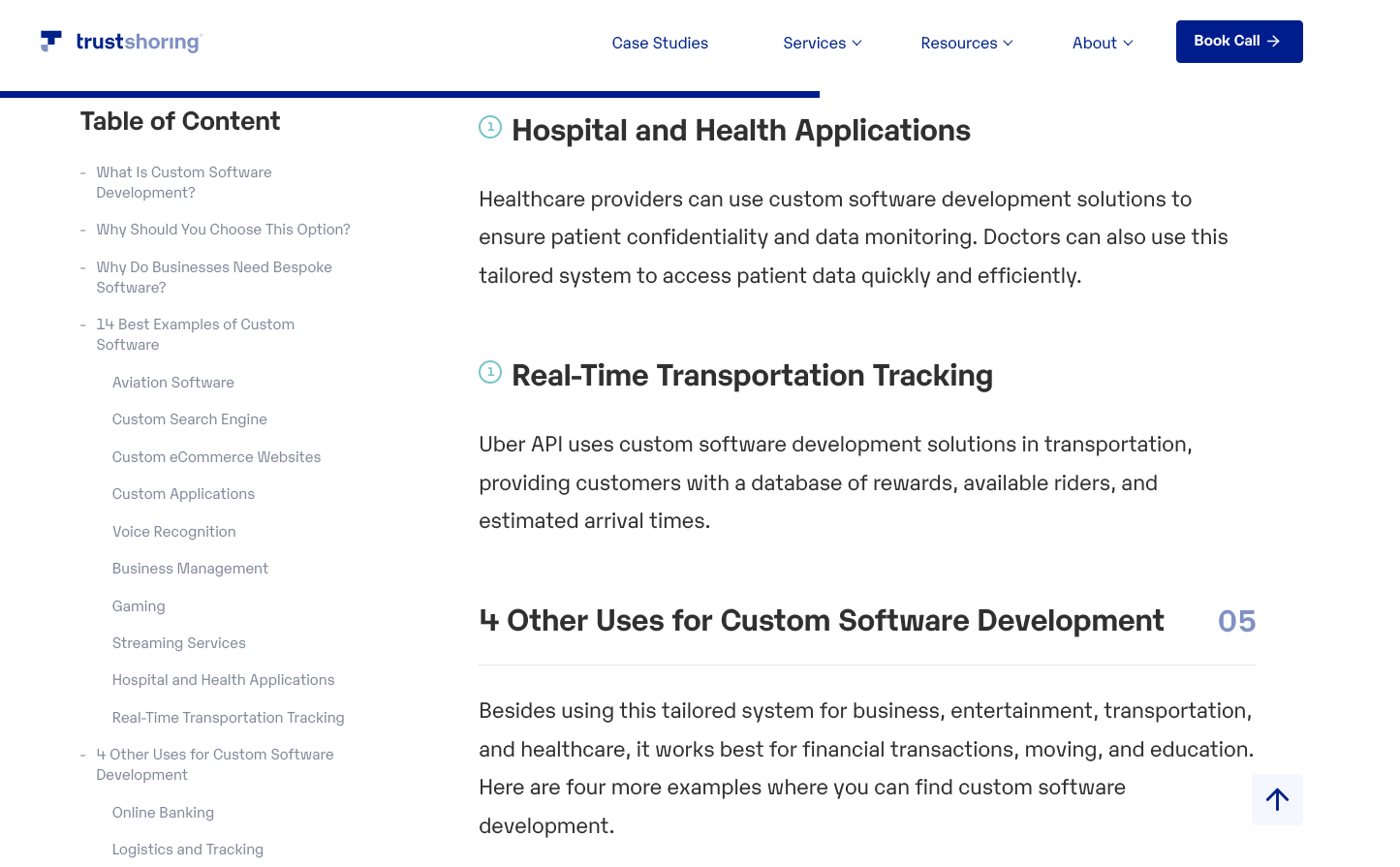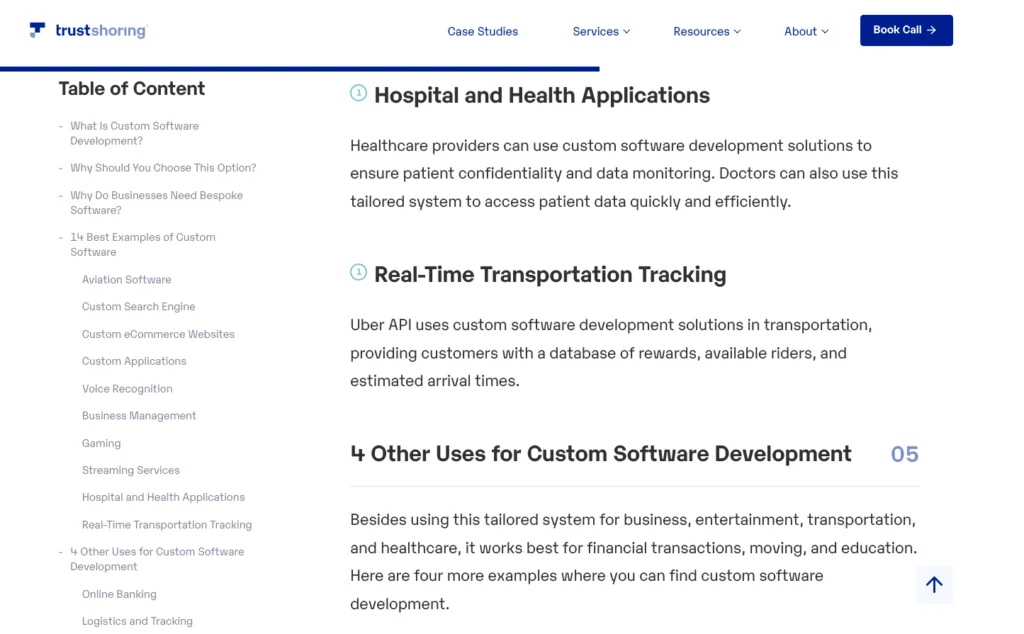 Images, Illustrations, Graphics, & Screenshots
Visual content is always worth investing in. That's not only because people tend to respond positively to visuals (there's scientific proof that images boost brand trust and purchase intent). More importantly, images greatly benefit written content, making it more attractive to your target audience. (And let's not forget that visuals are the key to ensuring your social media posts attract attention).
So, if you're looking for a proven-to-work type of content to direct a portion of your marketing budget toward, consider how you could use at least some of those resources to get your hands on more high-quality images, illustrations, and graphics.
If you're working with a tight budget, you don't have to say goodbye to stunning imagery for your site, blog, and social feed. Instead, you just need to get creative with how you source those photos.
For instance, something as simple as taking a few snapshots on your smartphone and applying a Lightroom filter could help you achieve a consistent look that works with your brand's visual identity.
Or, if that's not something that would benefit your brand, take a page out of Going's book and include screenshots in your content marketing efforts. In its How to Use Google Flights to Find Cheap Flights, this business presents readers with a truly in-depth article. More importantly, the article is transformed into a unique step-by-step tutorial with something as simple as a few annotated screenshots.
Short-Form Video for Social Media
Statistical data shows that over the last few years, most marketers employing video marketing opted for short-form variations that were less than 60 seconds long. And that's not much of a surprise.
Ultimately, short-form video is not only relatively easy to produce with just a smartphone. But more importantly, this format has become heavily preferred by almost all social media algorithms. In addition to TikTok and Instagram, networks like YouTube and Twitter have also added short-form, full-screen video functionalities to give consumers what they want.
So, if you're looking for a magical format guaranteed to get your content noticed, opt for a short-form video. And though it may not be enough to base your entire content strategy on, it is an excellent first step, no matter what industry your brand operates in. 
Just look at how well it works for Jamie Oliver, whose content strategy has slowly shifted from books and videos to YouTube Shorts and Instagram Reels. Ultimately, these have a much greater reach potential than any program that requires viewers to invest in a cable TV or streaming service subscription.
Long-Form Video
While short-form is great for grabbing attention, providing your audience with immersive insights necessitates a format that's (at least) slightly longer than 3 minutes. With this in mind, you must understand the potential of long-form video.
According to research from McKinsey, even younger consumers, notorious for their short attention spans, love immersing themselves in long-form videos, with video essays gaining particular momentum over the past couple of years.
Although this format isn't ideal for every business, it does offer some exceptional advantages. One of these benefits includes the ability to reuse and repurpose existing long-form video content. For a great example, check out Daily Stoic on Instagram.
Additionally, if you're willing to experiment with a long-form multimedia format like video, consider whether there are ways you could adapt the production process so that the end result also leaves you with a podcast episode. Statistics show there are more than 464 million podcast listeners globally in 2023, with a tendency for growth. So if you can tap into that audience and widen your reach with content that requires minimal effort to create, then it would be absurd to let that opportunity go to waste.
Email Newsletters
Conversion rate benchmarks show that one of the best sources of website traffic you can use to boost business results is email. According to Unbounce, the median conversion rate for email was 21.8% in 2021, which was three times bigger than for social media.
Pair this data with the fact that email is an extremely budget-friendly way to deliver content straight to your audience, and it quickly becomes evident that it's a format you absolutely must include in your strategy.
Of course, there are some ground rules for getting started with email marketing, like segmenting your email list, optimizing subject lines, copy, layout, and design, creating mobile-first emails, and analyzing performance. However, you can also outsource the process for a smoother content distribution experience that delivers an impressive ROI.
Shoppable Content
According to research data from 2022, most consumers do online research before buying products. This highlights the importance of trust-generating content formats, which we'll get to in a moment. But it also shows that one of the prime opportunities to boost conversions, or at least generate leads, is while your target audience is perusing your site and social media feed for buying advice, inspiration, or entertainment.
For example, knowing that 29% of global purchases are made directly through social networks, investing in shoppable content should be an absolute no-brainer — especially for ecommerce businesses like HumanCentric.
However, remember that social media is not the only place where adding shopping links could allow you to improve conversions. Something as simple as enriching written content with product links could also be a great way to encourage your audience to take a better look at your products and consider buying them right away. Take a look at how FOCL does it successfully in their guide to natural sleep supplements.
Interactive Resources
Another great format that would work well with any marketing strategy is interactive content.
Again, like video, audio, and visuals, interactive content does a fantastic job of encouraging consumer engagement. And while that benefit alone should be enough to convince you of its potential, it's also essential to understand that interactive resources do something that most other formats can't: they offer an opportunity for genuine personalization.
For example, interactive pages like the investing calculators from MarketBeat empower users with precise, relevant, and personalized information that they can use to make investing decisions. Coupled with the extensively insightful FAQs at the bottom of the pages, these resources have the potential to become an irreplaceable part of any investor's decision-making process. That leads to more frequent visits to the MarketBeat website, a heightened level of brand trust, and a better understanding of the value MarketBeat offers. All this can maximize the users' willingness to invest in one of the brand's paid reports.
Trust-Generating Content
Lastly, don't forget to allot a portion of your resources to building trust. After all, most buyers make shopping decisions based on whether they see a business as trustworthy. Research shows that 71% of people buy more from brands they perceive as dependable. Plus, they're more likely to recommend them to friends and family.
But what is trust-generating content in the first place? And can you update existing assets to help boost your brand's credibility?
Well, from a consumer point of view, any format that provides valuable, verified, data-backed information is trustworthy. And the best part is that you can easily add trust signals to existing articles on your website to ensure they drive trust and boost your brand image.
An excellent example of a business doing this comes from Eachnight. With its Best Mattresses Without Fiberglass: A Buyers' Guide featuring several powerful trust signals through the article, the brand also includes a Why Trust Us section at the top of the resource that points out how each post is written by a team of experts, is reviewed for accuracy, and only references trustworthy sources.
If this is going too far for your business's needs, you can achieve a similar result by adding an author's bio to your blog posts or linking to your data sources so that readers know you're not making things up.
In Closing
There you have it, the must-have types of content you should add to your strategy this year.
As you can see, none of these formats will require you to spend exorbitant amounts of money on content marketing. However, investing in high-quality content is always a good marketing move, and not just because of the ROI. Great content always provides opportunities for reuse, allowing you to get the most bang for your buck while still giving your audience the breadth and quality of information they want to see from the brands they support.